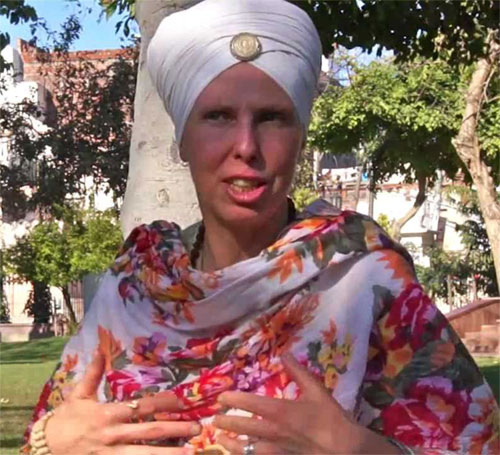 Kundalini Yoga Teacher Training Level 2 - 6 days yogic life and practice – near Frankfurt/Germany in the mountains
Time:  29. September to 5. October 2018
Where: D-35510 Butzbach-Maibach, 40 Minutes by car or 60 Minutes by train from Frankfurt Main Station/ Aerport, www.maibacher-schweiz.de/
With: Sat Atma Kaur Khalsa, Kundalini Yoga teacher since 1980 from the Netherlands (Co-Trainer: Sangeet Singh Gill/ Germany)
Language: English with German translation
Costs: 500, - Euro (including working materials) until 15th August 2017, afterwards 580, - Euro plus
Overnight stay / board (6 nights, vegetarian organic food, all freshly prepared) in the double room 360, - Euro, single room 410, - Euro or Multiple Rooms 260, - Euro
Module: Lifecycles and Lifestyles
In this module you will come to a new understanding of your life now, heal your past and learn from it, and connect to your destiny. It will be a week of healing, transformation and expansion.
The Lifecycles are a wonderful tool to look at your life: how did the pieces of the puzzle come together? Which choices did I make? Where am I at now and where am I going? How can I live my highest potential?
In this module we'll also work with the proces of dying. We will do meditations to learn how to face our own death. Doing this you will also learn how to help our people die in peace.
And also:
Sexuality and Spirituality
Rebirthing, healing the past
Prosperity and Succes
Midlife crisis, confronting your shadow
Habits that support your highest potential, your
devotion and vitality
About Sat Atma
Sat Atma Kaur Khalsa is Dutch and lives in southern France. For many, she is known from the European Yogafestival, where she greeted the new participants at the entrance for almost two decades.
Sat Atma met Yogi Bhajan in 1979. Since 1980 she has been teaching Kundalini Yoga classes. For many years she lived in Ashrams (spiritual communities) in Amsterdam, inspired by Yogi Bhajan.
Since 1990 she is a student of Guru Dev Singh. 1993, she started to given Sat Nam Rasayan healing treatments and teaches this meditative healing method based on compassion and neutrality. Also in 1993 she graduated as a physiotherapist.
Sat Atma Kaur Khalsa is a KRI Lead Trainer in Kundalini Yoga for Level 1 and 2.
Contact: 0049/178/5064628 (Sangeet Singh), This email address is being protected from spambots. You need JavaScript enabled to view it.